Is attached to the fishing line after the launch like a pendulum, near the reel or between the first and second bushing.In fishing is left horizontally and remains off, traction or loosening of the line, leaning, you the corresponding LED lights up with two different colors indicating separately the other a relaxation of tension lenza.La sensitivity is adjusted by adding a lead to the middle hole at the bottom with a carabiner, depending on sea conditions.
Easily applied to the arms with 2 elastic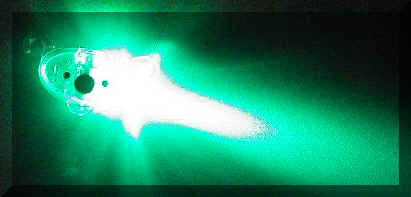 We produce and sell online all over the world accessories for sport fishing, such as bite alarms, countless molds to make fishing weights, both for launch, that is used in surfing
casting, which for bottom fishing also of depth. We also produce molds to make trolling weights, like a lead guardian. The mold models are for roccobomb lead, roccotop lead, tournament lead, DCA lead and for numerous pyramid weights, also for the Portuguese pyramid and for innumerable ball seals with both ring and through hole, particularly used for the sea ​​bream fishing. We also have a quick release lead model that remains aligned with the line. All our products are made in Italy, as they are produced within our company. We have become famous all over the world especially for ours bite indicator called bender, a signaling device that detects the vibration of the tip and also signals the line when the fish goes to land. Our bite detector is very sensitive, available in different LED colors. We use several internet sites for online sales, such as: https://www.abbocca.com, https://www.abbocca.it, https://www.fishing-accessories-sale.com, https://www.bite-alarm-fishing.com https: / /www.fishing-accessories-sale.com https: //www.omcdifedericistefano and https://win.abbocca.it, all of them are related to us, this to improve visibility on the internet.